Impacting Democracy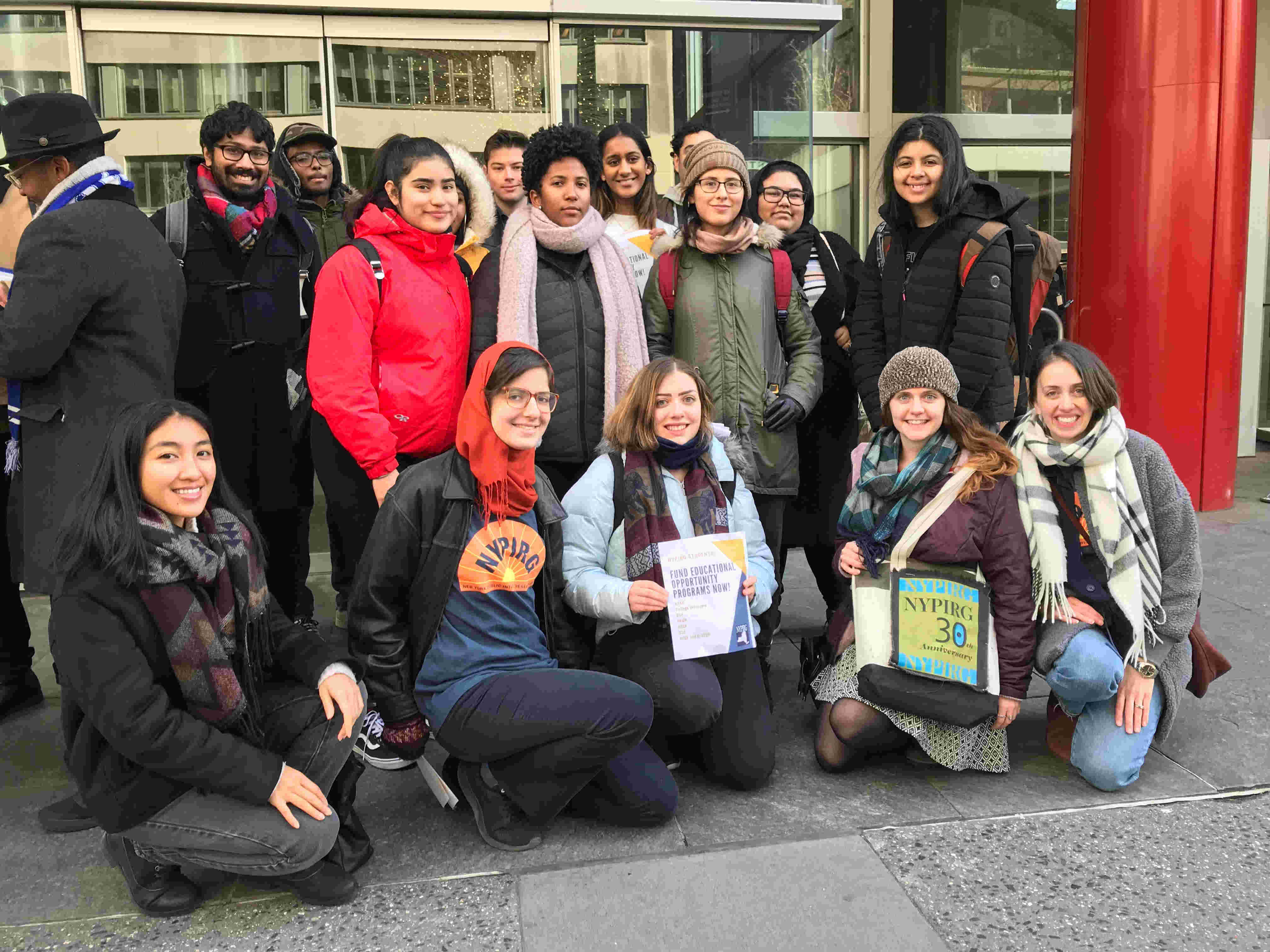 Climate change. Health care. College affordability. Housing costs. Job opportunities. Living wages. Social justice. Civil rights. Public transportation access.
Students and other young people are impacted every day by governmental decisions and actions. However, our interests are often marginalized by political leadership and decision-makers.
Today's college students must be armed with the knowledge and tools to face real-world social and political challenges — and ensure our voices are heard, our interests considered, and our rights protected. We must channel our energy into meaningful, effective action.
NYPIRG develops new young leaders to be powerful voices in politics and on social justice issues and provides opportunities for students to engage their peers in political activism. This webpage provides access to the tools necessary to:
understand how local and state government works
access information to needed to advocate for critical issues
learn digital organizing skills such as virtual event planning, one-on-one engagement, coalition building, and persuasive speaking
constructively participate in civic affairs and add value to public policy discourse
Current Issues
NYPIRG's programmatic work covers the most pressing issues:
addressing the existential threat posed by a rapidly heating planet
advocating for the affordability of higher education
advancing the accessibility and affordability of mass transit
winning protections from unsafe products and predatory business practices
providing help to those in need
fighting for a democracy that is inclusive and representative
NYPIRG helps students engage in the important policy debates of the day.
Organizing Tools and Ideas
Whether by choice or by necessity, more people are organizing digitally. These tools and tactics make connecting easy and impactful:
Coordinate a virtual meeting or digital discussion: Use a video chat or discussion board tool to meet up with peers to share updates, discuss plans, and coordinate actions. You can set up a Slack channel or use Google Meet. There are a host of other group messaging tools for more informal running dialog.
Communicate with folks regularly: Use a texting tool like Hustle or old fashion phonebanking to connect with others, invite them to upcoming digital events, or ask them to take an action. If you have volunteers texting or calling with you, provide them with their own list, script, and clear instructions on tracking responses.
Organize for action:
Educating your peers and sending a message to decision makers can make a real impact
Social Media Blitz: Ask people take a photo of themselves or friends and family and share it on their own social media accounts with a common message and hashtags, while tagging the handles of decision makers you'd like to take notice.
Call, Text, or Email Drives: Mass calls, texts or emails to decision makers can be done from anywhere with a phone signal or internet connection. Use a call- or text-tree to build momentum, asking anyone who called, texted, or emailed to send the message to five of their friends.
Art-In: Ask people to create a simple sign with a common message, using any art medium – markers, paint, chalk, pencils, collage, computer design. You may also want to organize an Art-In Party, where participants create their art while video-chatting. Take a photo of the finished signs and have everyone post it to their social media accounts.
Window or Door Sign Displays: Ask people to place signs visibly in their window or doors. These could use the "art-in" ones described above.