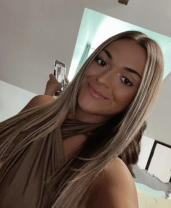 My name is Alexis DiBartolo and I am from Long Island, New York. Specifically, I live in Nassau county in Massapequa Park, where my Senate and Assembly District is 9. I am currently a senior at SUNY Cortland and a history major. I decided to go to SUNY Cortland because I would like to become a social studies teacher, and SUNY Cortland has a great education program. My family pays for most of my tuition and fees, as I do not get any financial aid. Fortunately, I only have a small amount in loans to pay back. I work during the summer, about 17 hours a week for my family's restaurant and also babysit to provide for my spending money at Cortland. I do not pay for textbooks or rent, as my parents provide me with money for that.
Because of the global pandemic, my college experience definitely changed. Online learning is certainly not for me. I very much would rather be in a classroom and in-person, then being taught by a computer screen. Onlines classes definitely made learning harder and less enjoyable. I am glad to finally be back in all in-person classes my final year at Cortland. Thankfully, the pandemic has not affected the way my parents pay for my college education. My dad's job was not lost, and still continued throughout the pandemic.
To me, getting a college degree is very important. Education, in my opinion, is very powerful and the passport to a successful future. Without my college degree, I would not be able to become the teacher that I passionately want to be. In the future, I am not too worried about paying back my student loans since it is typically a part of every student's life. Also, I do not owe that much in student loans thankfully, so I am not super worried.
Personally, I feel as though higher education in SUNY/CUNY schools could be better. Free tuition is only given to those whose parents make under a certain amount of money, and my father makes over the amount, thus I do not get free tuition or financial aid. And while my family lives a comfortable life, it is still at times challenging to pay for school as I have two other siblings who also went to college. Just because a parent makes a certain amount of money, does