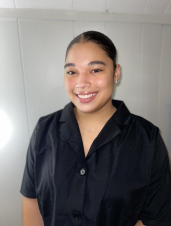 I am a full time student at SUNY Cortland. I am a senior majoring in Sociology with a concentration in Criminology and a minor in Spanish. I am from the East side Bronx, NY. I come from a single-parent family of 4. When applying for college, I was accepted in different schools and I had different options. However, I was only able to apply to SUNY or CUNY schools because that was all my mom was able to afford and barely. I always wanted to go away for college and one day my high school took us on a school trip to come visit SUNY Cortland and ever since then I started seeing it as an option. I fell in love with the Student Life Center and the peaceful environment at SUNY
Cortland so I decided to commit it to the school. I pay for tuition through the help of financial aid and student loans. Most of my tuition is paid through financial aid, which is helpful, but it is still not enough. Being able to pay my student loans is something that concerns me the most. I used to have two jobs. During the summer and winter breaks, I work almost every day to help pay for my personal expenses, and I also have a part-time job at school, but it's not nearly enough to save for my student loans. My mom tries her best to help but there is so much she can do as a caregiver of a single family. I believe college should be free for low income families. Since attending college is almost required in today's culture in order to secure a well-paying career, I don't think it's fair that tuition is so expensive. Students must also pay for their textbooks each semester in addition to tuition. I firmly believe that textbooks should be covered by tuition even if they may cost several hundred dollars.
My family and I experienced some difficulty during the epidemic. My mother sadly lost her job during COVID-19. The amount of government assistance we received to support our family of four was not enough. It was challenging for a while, and there was even a point when I believed I would have to return home to finish my education. I believed that I would never be able to go to school since money was so tight. I used the majority of my funds to assist my mother with her bill-paying. Nevertheless, I was able to get a job online and assist my mother for the rest of the year.
Having a college degree is very important for me because it won't only allow me to have better paying jobs, but it would also allow me to help my family get out of poverty. One of my biggest concerns is having to pay student loans for the rest of my life. I am hoping that one day everyone is able to attend college without having to worry about money.