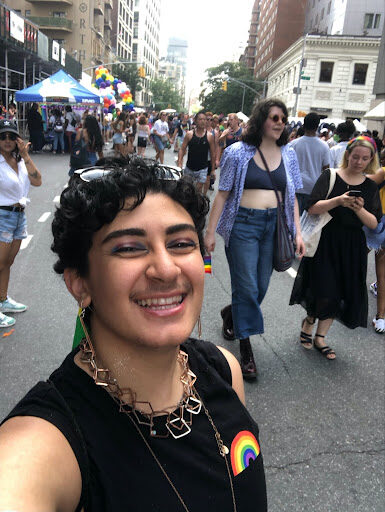 Atlas Thomas is a senior, sculpture integrated practices major at Pratt Institute. Going to college in the midst of a global pandemic forced Atlas to rethink the way he approached his educational finances. Though with the help of financial aid Atlas was able to get this far in his educational journey.
"I got really into ceramics when I was in high school. I was doing okay with it then we got to wheel throwing, and I sucked. I just couldn't do it. Everything I made would be terrible. I said to myself this is inexcusable, I can't be bad at this. I continued to work at it, and I got a job at a pottery studio. As the years went on I just fell in love with pottery and fell in love with sculpting. It wasn't like one moment, it was like a slow build up. I have a Parent Plus loan. I think I have the Pell Grant, the Presidential Scholarship, and I work – I work two on campus jobs – one in the Fine Arts wood shop, and another in the ceramics studio. We (my parents and I) have been getting loans since my freshman year. If we hadn't been getting loans it would have been a lot more difficult, mainly because it's just so expensive to live here.
For the last two years I've lived off campus, and paying rent is difficult, because it's just so expensive to live here. I live in an apartment a couple blocks from campus, and I have roommates. A good majority of my expenses are covered through financial aid. I budgeted a little bit less than I needed on purpose, because I didn't wanna have too many loans to pay after I graduated. I made it to where loans will pay for so much and I would need to work to cover the rest. I had a plan, because I didn't wanna be in debt for the rest of my life. I probably am – but like less debt now, by a couple thousand. I'm a little bit worried about how I'm going to pay back my loans, only because I don't have a guaranteed job after graduation. I'm looking for paid internships, and a job, because after graduation I won't have these on-campus jobs, which covers my expenses. I am lucky enough that my parents are helping me out a little bit. Last year I was trying to do it all on my own; it wasn't sustainable, so my parents agreed to help me out. I work 18 hours a week on top of six classes, because I'm a full time student. So I'm a full time student with 2 full time jobs and that cover most of my expenses.
It's difficult to pay for it all (tuition, rent, etc) – the apartment I live in wasn't my first choice, so I ended up paying a couple hundred dollars more than I had budgeted for. It's still less than I was paying last year. I only took out the bare minimum, I'm just trying to be frugal with it. My junior year I got loans to cover a little bit of my living expenses. Covid messed up whatever numbers I had. It ended up not being what the school was going to charge me. The school tends to charge people more than they say they will, so I had to deal with that. I was working 2 jobs on campus last year about 19 – 20 hours a week. So that covered most of it. I had to dip into my savings, but for the most part all of last year everything was on me. My parents helped me with groceries, but I have three siblings that my parents also support, and I didn't want to be a burden. It's exhausting to go through school and deal with those feelings. My mom always talks about how she paid her way through college and med school, so there's this mentality that you have to work – you have to put in the hours – you just gotta work. I've been working since I was like 6 years old basically. I've been expected to work for a good majority of my life, so working my way through college was just like a given."